Supershield CrC Hardfacing Wire | Introducing Platinum CX-1800

From Good to Great
We're taking an old favourite - Supershield CrC - to a new level of performance. We guarantee that the new Weldclas Platinum CX-1800 hard-facing welding wire will offer you everything that is good about CrC, with higher performance to save you even more time and money. Here's why;
Take me to CX-1800 Product Info
Made in Europe
Weldclass has partnered with leading European metallurgical experts to develop the next-generation CX-1800, to suit Australian conditions and save equipment operators time and money... by increasing wear life / equipment service life, reducing down-time costs, and increasing up-time.
Next-Level Wear Life
In terms of abrasion resistance and wear life, CX-1800 takes the respectable performance of CrC to a new level.
While both products are "chrome-carbide" wires, Platinum CX-1800 includes new technology and special carbide additives not found in other other wires. This results in even higher resistance to abrasion, with a wear life improvement of around +25% vs CrC, and up to 3-4 times better than basic* hardfacing wires.


Wear Retention Comparison
Based on wear tests to ASTM international standard;
Mild steel = 0% material retention
Basic hardfacing wires

*

= 40-50% material retention
Platinum CX-1800 = 83% material retention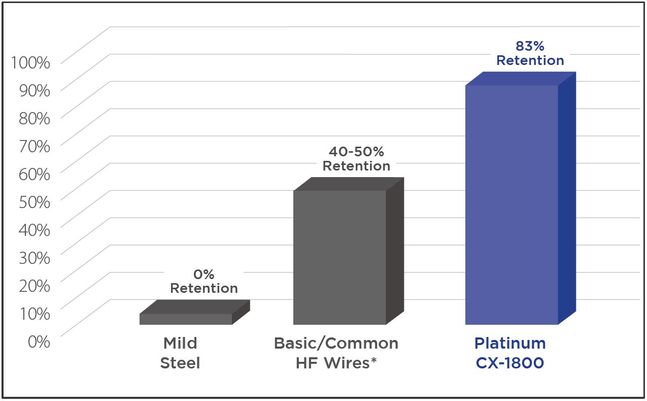 Super User-Friendly
Just like CrC, CX-1800 is very easy to use and apply;
Gasless for ease of use in the field or the workshop
Suitable for use with portable MIG welders (requires 140-200 amps)
Available in 1.2mm x 4.5kg or 15kg spools
In fact, CX-1800 offers unbeatable user appeal, thanks to the use of very high quality European raw materials that result in a smoother arc, even at lower weld parameters. This makes it tolerant to a wider range of parameters so you can minimise the time spent adjusting settings and maximise welding time.
Ideal for "Metal-to-Earth" Applications
CX-1800 is ideal for applications where tool/equipment wear is most caused by abrasion, with low-to-medium impact levels. This is the most common scenario for agricultural and general earth moving applications, where the tool is scraping or sliding against abrasive matter/earth. A classic example is ground-engaging equipment used in sandy and clay soils. (Australian sandy soils are among the most abrasive in the world).
Applications include; points, tynes, buckets lips & teeth, screws, augers, grousers, harvesting & cutting equipment, and more.
Great Value
We believe that new technology and improved performance shouldn't have to cost the earth. CX-1800 offers both outstanding performance and value for money. Contact your local Weldclass distributor today for pricing and supply.
*Basic hardfacing wires with typical Cr content of <15%. Comparisons shown are approximate typical values, for indicative comparison purposes only. Actual performance will vary from product to product and application to application. Trials should be conducted to determine how a specific wire will perform in any given application/situation.
Please note: Spam comments (or attempts to create backlinks) will be DELETED and will NOT be published.