User Reviews: Platinum GL-11 Gasless Wire
Reviews and comments from users of Platinum GL-11 gasless welding wire from Weldclass Australia.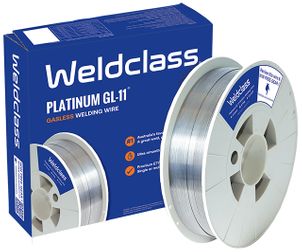 Product Info Find My Nearest Distributor Search Online Distributors
Adam - VIC
I'm a mobile fabricator and it's all I use! Up to 3 x 5kg rolls a week! Cant fault it!
13/09/21 3:29 AM
Matthew - QLD
On and off over the last 10 years, us at Double C Rural Contracting have been using your weldclass wire. We recommend your products to our clients and will continue to do so.
12/08/21 3:59 PM
Darren - NT
Been using this wire for awhile now awesome product.
09/08/21 5:14 PM
Lachlan - QLD
I fence contracted and it my go to wire easy to weld with and look good
24/06/21 6:23 PM
Stuart - NSW
Great product
30/06/21 2:51 AM
Brett - NT
I absolutely love using this wire. I do a lot of smaller fab work out doors and this wire is sensational to work with. Absolutely minimal gun stoppages and smooth continuous welding in all applications that I have used it in. Love this product.
14/06/21 9:28 PM
Deon - QLD
Brilliant would be the best gasless wire I have used
23/06/21 8:37 PM
Marcus - NSW
Great wire, much better than some I have used
22/06/21 9:36 PM
Jessy - NSW
Very good product
16/06/21 6:13 PM
Cameron - NSW
It was great it's not expensive and it is a great overall wire for projects and others jobs. I welded up a duel axel trailer with this spool and I still had a lot of wire left. Would definitely recommend to other people.
16/06/21 9:42 PM
Tom - NSW
GL-11. works well. Minimal splatter and what splatter there is in doesn't stick to the job. Tom
08/06/21 1:27 AM
Jaymon - NT
Best dual pass wire
05/06/21 10:47 PM
Frank - QLD
It has been very effective on all light and heavy gauge material. I am very pleased with it. Good for small and big jobs can't fault the product
03/06/21 5:20 AM
Scott - NSW
New to welding..wow heaps better to use..no splatter runs smoothly.massive difference.
01/06/21 5:40 PM
Matt - WA
Very smooth burn with this wire. Loves galvanised and duragalv steel. Easy clean and finished product 21/05/21 8:26 PM
Luke - SA
The wire has performed excellently through my machine
18/05/21 10:59 PM
Travis - NSW
I have previously used other types of wire and in my opinion nothing else compares to it
14/05/21 12:07 AM
Malcolm - NSW
Great to use perfect for those who do mobile welding
13/05/21 4:52 PM
Sahla - QLD
Does the job well, would recommend
11/05/21 9:46 PM
Tyler - TAS
Actually surprised how clean the weld was and low fume when in a tight area
27-Apr-2021
Bailey - VIC
Very good quality product and welds a dream
21/04/21 10:31 AM
Brodie - NT
Unbelievable user friendly, very little spatter, great arc and weld quality and the packaging is perfect for long storage life before use.
15/04/21 11:19 AM
Michael - QLD
So happy it gives a really smooth weld??
10/04/21 11:49 AM
Jono - NT
It's awsome
07/04/21 5:15 PM
Chris - NSW
Excellent wire with great results on all products used on this far
07/04/21 1:53 PM
Mark - SA
Its really easy to use weld with and overall quality wire
05/04/21 4:30 PM
Jacob - QLD
Welds nice and pretty good to use
05/04/21 3:46 PM
Will - QLD
Great allrounder from yard building to all workshop repair jobs.
25/03/21 7:26 AM
Stephen - NSW
Great product, best wire I've used in a long time
12/03/21 3:01 PM
Ben - NSW
I use it on a daily basis welding cattle rail to 75x75 posts
05/03/21 11:49 AM
Daniel - NT
Great product, works well with great results.
04/03/21 3:17 PM
Jason - QLD
Welds are clean and product easy to use
22/02/21 12:06 PM
Angus - WA
Has been good have been using for a number of years on and of user frendly wire to use
16/02/21 8:47 PM
Joshua - NSW
Really liked how it feels like you welding with gas except your not. That's how good it is.
07/02/21 8:39 AM
Stewart - QLD
Good smooth flowing welds do alot of vertical ups and best wire i have used in 13+years i been welding
07/02/21 6:50 AM
Baydon - QLD
Great
05/02/21 9:52 AM
Elmer - NT
It's good product even heavy gal can weld properly appearance looks well
03/02/21 4:40 PM
Ben - QLD
My preferred wire
03/02/21 12:01 PM
Russell - NSW
Emailed you guys this morning as I live in Vanuatu and finding it hard to get products I also emailed a local company and still haven't heard back from them not only did your people get back very quickly they also told me of a distributor in Port Vila although we live in Santo which is another 300km north we have a weekly ferry service from Vila which will be a godsend anything from Australia usually takes up to 2 months and then you get hit with import duty as well as freight so thanks again will keep in touch
02/02/21 3:21 PM
Brett - QLD
For a novice I'm making some great welds with this wire, minimal splatter highly recommended!
25/01/21 3:02 PM
Neil - QLD
The wire is excellent quality and produces a fantastic weld
24/01/21 1:41 PM
Isaac - NSW
Been very easy to put in and is doing a good job
07/01/21 9:26 AM
Troy - QLD
Great smooth runs. Works awesome in my weldforce WF-180MST
05/01/21 5:37 PM
Edward - QLD
I find the gasless wire very easy to use and welds very smooth
05/01/21 3:05 PM
Tim - QLD
The platinum gasless wire is a great product. I've used it for a 5km steel fence and never gave me any grief.
04/01/21
Luke - VIC
Just easy to use.
23/12/20 1:29 PM
Chris - NSW
Top notch product. I've bought in bulk and am on selling to my mates. Even they keep coming back for more.
16/12/20 10:13 AM
Dan - QLD
I've currently used 58 rolls of the 0.9mm GL-11 and had not one issue, welding galvanised steel for my cattle yard building business has become far more efficient with low splatter and less down time cleaning tips and tidying welds. 10/10 for this product. DNK rural
14/12/20 12:07 PM
Tony - Other
Great wire best I've used
14/12/20 11:20 AM
Chris - NSW
Best wire I've used. On the current job have used about 60 rolls.
14/12/20 11:02 AM
Dale - QLD
Best wire. Great welds
11/12/20 2:33 PM
Steven - NT
I've used several different wire over the years but cannot beat the weldclass. Not the cheapest on the market but definitely a step above the rest in quality
10/12/20 2:48 PM
Jacob - NT
Quality wire. Use for all our welding needs
10/12/20 2:44 PM
Andrew - QLD
By far the best gasless wire on the market
09/12/20 4:49 PM
Luke - VIC
Haven't had any dramas with this wire works well and gives a nice weld finish have used this wire from the day i got my welder
08/12/20 8:34 PM
Lachlan - QLD
Top product i run a rural fence business and it first pick of wire
04/12/20 1:56 PM
William - QLD
Easy to use, great results every time!!
03/12/20 2:37 PM
Zac - VIC
Great product, works well and would recommend to others
30/11/20 5:06 PM
Andrew - QLD
Great to use. Good value
15/11/20 5:12 PM
Daniel - SA
Excellent product works perfect just as good as gas!
11/11/20 6:15 PM
Larissa - NSW
I have had no problems with it at all works a treat
11/11/20 10:28 AM
Jacob - QLD
This wire was recommended to me by a Qualified boilermaker and I couldn't be happier with it, provides great clean welds and runs smoothly through my machine leaving minimal splatter ! Will definitely keep using and recommend it to others !!
09/11/20 7:24 PM
Steve - QLD
Excellent wire, feeds well very little splatter.
07/11/20 12:14 PM
Joel - NSW
Very impressed for a flux core wire it welds very smooth with minimal slag and spatter
06/11/20 9:04 PM
Jon - QLD
Run 0.9 in small kempii for light farm work, very happy with the results and best gasless wire Ive used 06/11/20 3:17 PM
Peter - QLD
This would have to be the best gasless wire around.
With on site welding and fabrication it sill not let you down no mater what angle or environment.
Great welds on duragal with no porosity even after it had been sitting for months it is still perfect
Keep up the good work
04/11/20 9:18 AM
John - QLD
Top product esey to Use good finish
04/11/20 9:17 AM
Cameron - NSW
For such a lightweight and soft wire, its creates an excellent weld. I wont be using cheap generic wire again.
30/10/20 1:07 PM
Sean - VIC
I'm new to mig welding and purchased cheap wire twice and thought I was just a crap welder But after using Weldclass gasless wire I realised my mistake was not buying quality wire in the first place cheers Sean 29/10/20 4:03 PM
Sonny - NT
I asked for the best gas less wire I could buy and since that first roll I've never had to look any further. I tried a cheaper brand once as a matter of necessity but have never let myself run short again. This wire always runs smooth. For the convenience of gasless welding jobs this wire did the job well every time. As with gasless the clean up can be annoying however that's the choice made between welding with gas and welding gasless. .
28/10/20 8:15 PM
Steven - QLD
Great wire great welds and didnt have any problems with wire feed.
28/10/20 1:50 PM
James - QLD
Love this wire been using it for years on my farm for all the yards burns good and consistent.
27/10/20 4:14 PM
Justin - QLD
It's really good wire I've used this now for 3 years I think day in day out, welding anything from 1mm plate to grader blades dozers etc.
Would like to see a 5kg roll
23/10/20 8:00 AM
Phillip - TAS
Awesome product I will keep buying
17/10/20 9:21 AM
Steve - VIC
Best to use
16/10/20 11:25 AM
Dreau - QLD
I sell it so I use it and recommend
15/10/20 7:10 PM
Shane - QLD
I have been using cigweld wire for over 30years, a mate put me onto your product. Love using it would be an understatement my god why did i not know what I was missing out on. Unbelievable, thank you Wwldclass
06/10/20 2:24 PM
Matt - QLD
Great wire flows really well and love the full sealed package so no rust to deal with highly recommend
05/10/20 2:55 PM
Lloyd - QLD
Good amp range, all position welding, easy slag removal great on galvanised steel. Easy to use, has a good amp range. Easy slag removal.
03/10/20 12:51 PM
Steve - VIC
Welds great, comes of the spool very evenly and consist
02/10/20 4:15 PM
David - QLD
Without a doubt, the smoothest welding I've ever done is with this wire. It makes anyone look like a professional
01/10/20 6:12 PM
Keith - VIC
Its a great product with excellent filling capabilities the bead cleans up very nicely with a wire brush and is the closest to gas mig ive used, all in all a great product.
01/10/20 8:44 AM
Chris - NT
Great product to use
28/09/20 1:57 PM
Jakob - WA
When I first used it was great it was very neat and i have been using the wire ever since
25/09/20 11:17 PM
Hal - NSW
Such a great product to use and comes highly recommended from the sales team where I buy the wire.
25/09/20 3:35 PM
Brian - NSW
When welding shit Chinese steel and gal at that it does a great job when fencing and other stuff
24/09/20 5:37 PM
Warren - QLD
I found the wire easy to use and the slag was easy to brush off.
20/09/20 10:14 AM
Damien - QLD
Great wire, easy to use in all positions.
18/09/20 6:54 AM
Gavin - WA
Been useing it for years great
16/09/20 5:39 PM
Bob - VIC
Welds good. Left neat weld with no porosity.
14/09/20 1:07 PM
Aaron - Other
Excellent and inexpensive product very happy with the results
02/09/20 9:43 PM
Adam - SA
So far the experience is really good spools of roll real well and leaves a nice weld when fini
31/08/20 12:44 PM
Stephan - VIC
This is my second roll of your wire that I'm about to start using,I have tried other brands & I would highly recommend Platinum GL-11 to anyone that uses a mig welder,I love it & won't be using any other wire again,thank you so much for such a awesome product 10 out of 10 from me,cheers
26/08/20 1:08 PM
Mathew - QLD
This wire makes gas less mig welding a breeze with a high quality weld. Made the job
23/08/20 10:09 PM
Mathew - QLD
Great wire. Really smooth and easy to weld with. Highly recommend this product if your looking for a great finish without gas.
23/08/20 10:06 PM
Helio - NT
Awesome, no rust professional weld results.
22/08/20 12:53 PM
Graham - Other
Great and easy to use.
22/08/20 7:15 AM
Shane - NSW
Yeah ok had to get as all store had and needed it. More expensive than thought but needed it so seems to be fine I have used this product before and was happy with it
21/08/20 6:01 PM
Patrick - QLD
Well I have to say that my work has gone backwards in quality. My suppliers a little store decided they weren't going to stock your wire anymore, .9 gassless so after traveling 6 extra ks to get weldclass I have to settle for some other @#%&*. I have gone from the job taking me 45 minutes to it taking over an hour and not looking anything like the quality I was getting. If you can supply me weldclass direct I would by a box.
17/08/20 12:52 PM
Niek - VIC
Start well and run alright. Slack comes off easy
13/08/20 11:26 AM
Andrew - NSW
Smoothest welding wire I've used ever
11/08/20 11:39 AM
Tom - VIC
Weld class gassless wire, good value, welds smooth, will buy more.
10/08/20 8:49 PM
Kyron - NSW
Good clean welding wire..
29/07/20 5:15 PM
David - NSW
Have been welding for 42 years ,Mig for 38 years , used many brands of Hard and Fluxed cored wire .Recently completed a set of Gal Cattle yards and used 21 rolls of Weldclass Platinum GL 11 flux cored wire (4.5 kg) over 17 days of welding through a 200 amp Inverter welder on an 8kva Generator . This wire is the easiest all positional wire I have ever used and is brilliant on Galvanised steel , had absolutely no trouble with wire feed or breakage , and produced a very consistent weld zone , use the wire weekly in the field for welding Fence end assemblies and other repair work .Great Product Cheers
15/07/20 11:42 PM
Nicholas - NSW
Great product need to make bigger reels of wire more wire on the one reel
13/07/20 5:32 PM
Jack - QLD
Really nice flow, low spatter, welds clean
06/07/20 7:15 PM
Donald - VIC
Building horse stables & welding the frame with the gasless wire has been amazing. Great strength in the welds and a good finish even for a novice like myself. Great
02/07/20 9:22 AM
Roger - VIC
Smooth to use. Much less spatter than other brands. Runs well off spool. Great product and have enjoyed using for last 2 years.
29/06/20 9:16 AM
Warren - VIC
Yes very good product using it to weld cattle yards
18/06/20 5:11 PM
John - NSW
Would definitely recommend to others and we do here at Build24
16/06/20 9:11 AM
Vasilios - SA
Very good wire to mig with
Was supposed with how good it works would definitely recommend to everyone
01/06/20 12:59 PM
Aydan - WA
Brilant wire highly recommend this
22/05/20 10:40 AM
Len - NSW
Highly recommend, used other brands and this product is the best by far. Better weld penetration and nicer finish
19/05/20 2:01 PM
Justin - QLD
I use .9 Platnum GL-11 gasless mig wore every day on my farm, from welding fence end stays out in the paddock, dog and chook pens to a heavy duty grid in the shed, great product no dramas with it coiling off the roll and smooth to use, I highly recommend this product where gas welding applications is not affordable or practical.
27/04/20 3:23 PM
Joe - NSW
Smoothest trouble free gasless wire in its class! I won't use anything else!
10/10! As per normal,Weldclass at the top of the game!
16/04/20 2:43 PM
Dylan - NSW
This is by far the best gasless welding wire I've ever used I have over 20 welder friends and they all use a roll a week now
09/04/20 4:56 PM
Paul - WA
Yes . Worked well . Good price .
05/04/20 5:24 PM
David - QLD
This is the best gasless wire. Starts and welds smoothly even on galvanised steel. Multi run is easy.
01/04/20 11:40 AM
Clint - QLD
Yes recommend the gas less wire, it's great to use, weld pools beautiful and has a fantastic Finnish
25/03/20 8:00 PM
kyle - WA
Yes i would recommend it to everyone the wire has very little splatter and was the smoothest to use
21/02/20 8:43 PM
Alex - NSW
Great product. Comes well packaged so it's not damaged sitting in the back of the truck. Feeds well through the machine. Highly recommend.
20/02/20 7:43 AM
Ian - QLD
As a longtime user of Cigweld, I was caught short on sote and needed some gasless wire to complete the job.
At the local supply shop, the staff member rrcommended the Weldclass Platinum wire so I bought a roll, loaded up the mig and set to work. I was pleasantly surprised at how this wire performed. Very little spatter, smooth feeding through the liner and a constant, clean bead on the 10mm plate that I was welding proved to me that the Platinum was a very good choice, at a lower price than my usual wire and also readily available.
Recommended.
29/01/20 3:45 PM
karim - QLD
Smooth and reliable
29/01/20 6:37 AM
Jack - NSW
Yes, it's one of the better gasless wires out there
17/01/20 10:17 AM
Den - NSW
Good welding wire runs a good bead couldn't tell the difference between this wire than your generic
08/01/20 3:44 PM
Dean - QLD
The weldclass platinum GL-11 gasless welding wire is the smoothest wire I have ever used it makes someone that is bad at welding look like a pro
27/12/19 7:03 PM
Gary - NSW
Yes I would recommend to others it's a awesome product
25/11/19 7:46 PM
Peter - WA
Used the product many times with excellent results, the best gasless wire on the market.
20/11/19 9:46 PM
William - QLD
I would recommend this product over other brands of wire as it is smooth to weld with a d gives a nice clean finish. I'm not the world's best welder and I get good results with this wire........no chicken poo in sight
15/11/19 10:30 PM
Jake - QLD
Only wire we use. Smooth welds and great price
15/10/19 11:22 AM
Bradley - SA
I've been using this wire to weld up she perlins made from galv and it's amazing at burning through the galv. So smooth. And doesn't make the galv explode whilst welding like it does with solid gas shielded wire.
09/10/19 11:20 AM
Sean - QLD
I would definitely recommend it to others as the best gasless welding wire I've ever used.
20/09/19 10:15 AM
Peter - WA
I have tried a lot of other gas less wire brands but nothing is as good as the platinum gl-11, excellent wire feed and amazing welds from a gas less product highly recommended.
26/07/19 8:07 AM
Frank - QLD
Most definitely it's a good product to use I have had no issues to date with it . I use a portable welder as I am in construction and using gas is quite difficult in some applications and the Platinum GL-11 is great for what I am doing 20/07/19 11:59 AM
Michael - QLD
Definately recommend it to other trade professionals. The wire exceeded my expectations and lived up to the product spefications. Thanks for a great product!
30/06/19 6:07 PM
Ian - QLD
Love this wire to weld with welds easy and is the best gasless wire I have used to date
18/05/19 8:10 AM
Matt - NSW
Excellent quality gasless welding wire, personally I have tried many different brands and types of gasless wire but the Weldclass Gasless Platinum GL-11 has done it for me. It is a smooth flowing and low spatter wire. I would definitely recommend this to others!
30-Jan-2019
Jeffrey - NSW
Have used many rolls of this product for a number of jobs in the agricultural sector and found it to be a reliable and consistent performer. I would recommend platnium GL-ll wire to anyone who is planning a jod with gal post and rail as it will definitely be a suitable product.
19-Dec-2018
Ross - WA
I have been welding a steel framed house together using a Kempii Miniarc Evo 2000 with Platinum GL-11 0.8mm wire. The materials being welded are 0.75 and 1.15 galvanized rolled lip channel.
When I ran out of wire my supplier was out of stock of this wire and he supplied me with some from an alternative well known company.
The difference was very noticeable. The arc was not as soft causing blow outs in the thinner material and weld appearance was not as neat.
I can strongly recommend the GL-11 wire for this application.
21-May-2018
Marc - NSW
I have used the 'Weldclass Platinum GL-11' mig wire for just over 6 months and for me personally it is by far a superior product to all brands that I have previously used.
It is simply cleaner and less time consuming when compared to other brands. GL-11 produces significantly less splatter, less weld porosity (if any), slag is easily removed revealing a nice clean weld underneath and the wire feeds out more smoothly and consistently which minimises the time needed to tweak the feed rolls.
I like the fact that the cost per roll is comparable to other brands and that there is less wastage as the wire comes pre-packaged in a foil bag that can be re-used to cover the part roll when it's not in being used for an extended period of time. Many times I have had to remove rust affected layers from competitor products prior to use which is just costly and wasteful.
Highly recommended, once you try it, you will be converted!
16-Jun-2017
Brock - QLD
I use the weldclass .09 flux cored wire and love it. Best I've used.
21-Feb-2017
Tim - VIC
I've used other brands of gasless wire in the past but was always disappointed with the weld appearance, spatter etc. After inspecting the first few GL-11 welds I knew I was onto a good thing and knew I wouldn't need to try any other brands, I have finally found what I was looking for. I can honestly say none of the other brands I've used have come close to the quality of GL-11. It flows smoothly with minimal spatter and weld appearance is also very good.
5-Sep-2016
Product Info Find My Nearest Distributor Search Online Distributors More articles on Gasless Welding
Please note: Spam comments (or attempts to create backlinks) will be DELETED and will NOT be published.